Do you know which one of these pictures doesn't belong?
If you guessed the cup of coffee… you would be wrong, at least for this discussion. Each one of those images represents the name of a rather sweeping change to Google's search algorithm… except the tiger.
Caffeine, Panda, Penguin, and most recently Hummingbird, (August 2013) are the names of significant overhauls to Google's search engine. There have been a LOT of Google Algorithm updates since the Google dance started in 2000. Over 30 updates in 2012 alone!
Not long ago Google announced that all keyword searches would now be encrypted. What that means to you, the website owner, is that you will no longer know which keywords were used during a Google search to find your website. Given that Google holds about 2/3 of the search market that results in a significant loss of data.
If you operate a small business you probably don't have the resources to keep up with SEO and Google Algorithm updates, etc. So what can you do?
Think like a Google.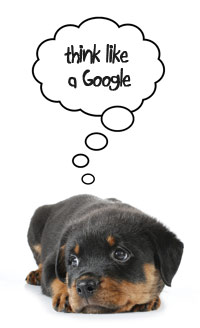 Let's say you own a little store called Google, that sells books and magazines. When customers come to your store looking for books on Jackalopes, you want them to be able to find information on Jackalopes. If a customer picks up a book called Jackalopes  and it has just one page about Jackalopes  or many pages about Jack-o-lanterns but no Jackalopes , the customer will leave the store and go elsewhere.  For your Google store to keep customers returning you have to be able to deliver books that provide current, relevant, quality content on the subject your customers are seeking.
One thing remains consistent with Google, and other search engines: to provide the most relevant search results.   
So if your website is to be "delivered" in the search engine results, it needs to provide quality content.  Regularly update your website with rich, meaningful and relevant content.
Write for your website users, not the search engines.  Remember, think like a Google.  Trying to trick the search engines with keyword stuffing, etc. doesn't work.
Write content that is relevant to your website and your target audience.   Create content that provides real value, maybe solves a problem or adds a unique perspective.  Adding relevant content will establish expertise.
Make sure each page is focused on a few keywords.  Incorporate keywords into your content, title tag and headers.  Don't overdo it or it will be tagged as spam.
Create longer content.  Aim for at least 500 words to a page.
Update regularly.  Give visitors and search engines a reason to return to your website.  Adding a blog to your website is a great way to regularly add meaningful content.
Use unique, descriptive title tags for your pages that include keywords and your company's brand name.
Use alt tags to add descriptive data about your images.  Spiders can't read images, but they can read text.
SEO is a HUGE INDUSTRY.
That should give you an idea of the amount of resources that can be dedicated to SEO.  But if you don't have time to keep up with the latest SEO trends, rest assured that quality content is still king.
Note:  All of the animals above, except the coffee critter, are imperiled animals with the World Wildlife Federation/Defenders of Wildlife Organization.  For every website created, Double Fox Websites adopts one of these endangered animals.  We are proud to say that Double Fox Websites has adopted a Hummingbird, Panda, Penguin and Tiger family at least once.  The more times the better!